Mentored practice sessions
The final stage of the steer clear programme is practicing with an experienced accompanying driver or "mentor".

Planned practice sessions with a mentor are essential in helping new drivers gain valuable driving experience. They give the inexperienced driver an opportunity to practice and gain confidence with the new skills in a more relaxed timeframe than the lessons allow.

Steer Clear recommends the international best practice of completing 40 hours of structured practice. The practice sessions are designed to run simultaneously in between the driving lessons, this way the novice driver can practice the new skills learned in each lesson and then gain competence in them before progressing on to the next driving lesson.

The Steer Clear Driving Skills Manual & Logbook accompanies this stage of the learning process.

The manual's excellent guidance and useful tips help parents and other accompanying drivers to become effective mentors and to share the benefit of mature driving experience. The easy to use logbook reinforces and tracks the learning to make certain that nothing is left out.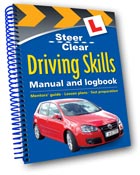 Lessons
1. Preparing to drive
2. Reversing
3. Observations
4. Town and city driving
5. Parking
6. Emergency braking
7. Weather and other adverse driving conditions
8. Dual carriageways & motorways
9. Vehicle maintenance and navigation
10.Vehicle loading and towing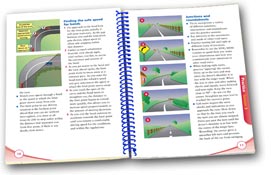 Graduates of the Steer Clear Driver Education Course receive a copy of the Steer Clear Driving Skills Manual & Logbook as part of their course.
The Steer Clear Driving Skills Manual and logbook is now also available, directly from Eason's, Dubray, Hughs & Hughs and all major book stores as well as direct from the Irish Driver's Education Association for just €19.99 inc.