Leinster Driving Campus
Steer Clear is please to announce that Steer Clear students now have the opportunity to visit the Leinster Driving Campus during the course at a reduced "Steer Clear" fee

The purpose built facility, the first of its kind in Ireland with over 2 kms of total road length based on a private 5 acre site. It features marked junctions, including a roundabout, yellow box junction and areas suitable for manoeuvring.

Steer Clear students to gain invaluable experience behind the wheel of a dual controlled car in the safety of a private road network.
As an optional extra students can visit the Leinster Driving Campus at a special reduced Steer Clear rate.
For more details on Leinster Driving Campus please see leinsterdrivingcampus.ie
Steer Clear Sponsorship Programme
Steer Clear is Ireland's only fully comprehensive driver education course and is comparable to the best of driver education programmes available internationally. The course which has been designed specifically for Irish roads was launched in 2006.
In 2007 Steer Clear developed a sponsorship programme which offers the business comuinity the oportunity to sponsor Driver Education in a local school or Youth Reach Centre. Sponsorship can be offered anonimosly or in an open parnership.
Tuam Shopping Centre
Steer Clear and Tuam Shopping Centre Working together to save lives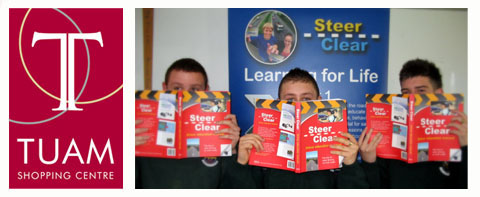 Steer Clear is Ireland's only fully comprehensive driver education course and is comparable to the best of driver education programmes available internationally. The course which has been designed specifically for Irish roads was launched in 2006.

Steer Clear empowers road users with the knowledge and understanding necessary to safely use busy complex road systems. The reason that this course is so different is because it doesn't focus on the physical skills of driving a vehicle, it focuses instead on the attitude and behaviour of the person doing the driving.

Steer Clear is pleased to welcome Tuam Shopping Centre to its Silver Sponsorship programme.

The Steer Clear Silver Sponsorship Programme allows companies, local bodies and agencies the opportunity to make a real difference to the long term safety of young people on our roads.

Tuam Shopping Centre has sponsored the training of a Youthreach Co-ordinator to deliver the Steer Clear programme to Tuam Youthreach Students. The sponsorship allows the youthreach centre to train a youthreach teacher for free and will continue to benefit Tuam Youthreach students over the next number of years. Their is no cost to the students to complete the Steer Clear programme.
Wicklow Times Article

St. Killian's Battle Road Deaths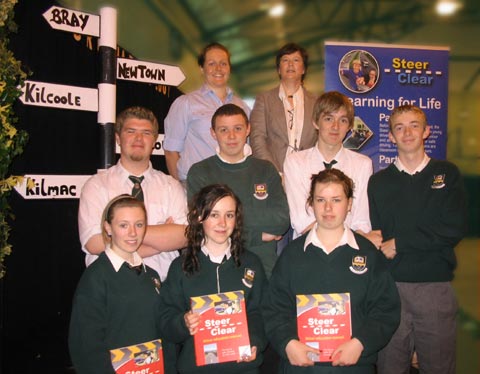 Students from Transition Year at St. Killian's Community School in Bray recently graduated from Ireland's only fully comprehensive Driver Education course, Steer Clear.

The Steer Clear course, comparable to Driver Education programmes in the US and Europe, concentrates on the attitude and motivation of the driver as well as developing comprehensive practical skills and experience.

The educational programme is all about empowering road users with the knowledge and understanding needed to safely use busy, complex road systems.

Steer Clear Driver Education programme has been researched and developed by the Irish Drivers Education Association Ltd., based in Bray.

Steer Clear offers a service to schools nationwide.

Time and again drive behaviour and the choices and decisions made by all road users, has been identified as the critical factor contributing to the high rate of death and serious injuries on our roads.

Even though 2006 was a better year with less road deaths than previous years, the numbers in excess of one person dying and dozens being injured on our roads everyday of the year is still unacceptable.

Orla Lambert, Transition Year Coordinator and Assistant Principal at St. Killian's Community School, was delighted with the high rate of participation in the course and in its outcome. "Our students have gained a healthy mature attitude to driving and a higher awareness of the dangers involved", state Ms. Lambert.

Sarah Gough, Schools Coordinator of Steer Clear, presented the students with their certificates.

Ms. Gough was please with the students' response to the course. She stated: "The students from St. Killian's really got the best from the course and achieved a high average pass rate, which is fantastic. We are looking forward to working with the 2007/2008 Transition Year Students".

The St. Killian's students in turn were pleased with the programme. "My favourite part of the course was when we got the chance to examine a real car. This was where the theory we studied was put to the test", stated one student.
Kilkenny Voice Article

Teenage drivers taught to Steer Clear of danger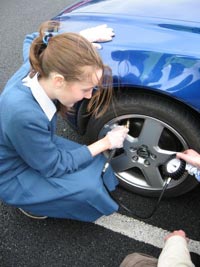 A DRIVER safety course aimed at teenagers is now underway in the Kilkenny area. Steer Clear is a new approach to road safety in Ireland and has been developed in response to escalating carnage on the roads.

Latest statistics show that of all teenagers in Ireland who will sit their Junior Certificate exams this year, 1500 will be killed on the roads before they reach the ages of 25. It is vital that they are targeted before they get behind a steering wheel for the first time.

The course, which involves a minimum of 20 hours' structured academic education, is available to all post primary schools in Kilkenny. Since it was made available, more than nine schools in the city and county have expressed an interest in running it as part of their curriculum.

Róisín O'Farrell Steer Clear explained: "We are getting fantastic feedback from all the schools that have run it so far. Almost all of them have rebooked for this year".

"There is a groundswell of parents out there who understand that a course like this is necessary for their children. A number of them have been phoning us asking us to contact their children's schools because they want to see the course run there".

Most of the major insurance companies, including Allianz Direct, AXA, Zurich Quinn Direct, ARB, and St. Paul's Travellers are supporting the programme by way of an insurance voucher toward the driver's first motor insurance policy.

Schools can also apply to the National Lottery funding or to local car dealers or big businesses in their areas for sponsorship.

"There are ways around it if parents can't afford it", said Róisín.

"It's not a small amount of money but if you compare it to the cost of a Nintendo or Playstation then it is well worth it. You are giving your child a valuable life skill and helping to protect them on their driving career for the rest of their life".

"Most of us learned to drive by experience but our roads are busier and more complex now than they ever were. Just hoping for the best is just not an option for our future drivers.

Along with 20 hour tuition, the course fees include a Steer Clear course manual, drivers in-car logbook, Official Driver Theory Test book and CD and the Rules of the Road. For more information check out www.steerclear.ie or call 01-2022428.
Mayo News Article

Balla Secondary School driving home the message of road safety in Co. Mayo.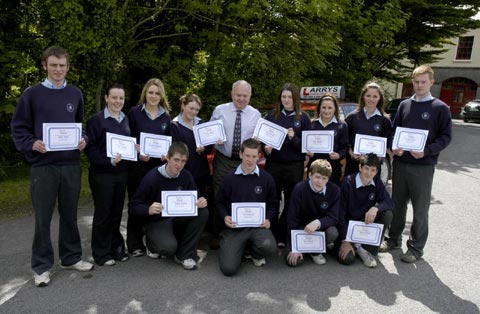 Well done to Students from the Transition Year of Balla Secondary School. The Co. Mayo School is the first in the county to host the Steer Clear programme. Larry Sage the local Steer Clear educator is pictured here with some of the graduates from the course.
Irish Insurance companies join the support for Steer Clear
Many leading Irish Insurance companies have recognised the educational value of the Steer Clear programme through substantial reductions in the cost of policies. Successful graduates of Steer Clear Part 1, will receive a cash voucher to the value of €350 (issued to students paying €350) which may be used as a direct payment against their first policy or in some cases, toward the cost of inclusion on their parents insurance policy as a named driver. To date, the following companies have committed to this valuable scheme:

Allianz Direct - ARB Insurance - AXA Insurance - Eagle Star - Hibernian - Quinn Direct - St Paul Travelers Ireland
National Safety Council supports Steer Clear
Since the beginning of our campaign, I.D.E.A. have received positive encouragement from the NSC in our efforts to introduce comprehensive Driver Education within Ireland. We have worked closely with the NSC over the years and are grateful for their continued support. The Steer Clear programme has now become part of a pilot project being run by the NSC in a number of Local Authority areas. Read the views of Mr Alan Richardson, Secretary National Safety Council ...
N.C.C.A. report by Professor Ray Fuller
A detailed report was published following a request from the former Minister for Education and Science, Dr. Michael Woods, to the National Council for Curriculum and Assessment. This study examined "Driver Education and Training in Post-primary Schools". I.D.E.A. were pleased to have assisted in its preparation and welcome the value given to Driver Education in its findings. Read a more detailed summary here...
Irish School of Motoring supports Steer Clear
Established in 1961, the Irish School of Motoring have unrivaled experience with a Nationwide network of highly successful Driving Schools throughout Ireland. I.D.E.A. are pleased to announce the support of ISM in the development of Steer Clear Driver Education programme. By combining their extensive hands-on experience with the education expertise of the I.D.E.A. team we are confident that Steer Clear will deliver the most effective Life Learning yet seen