Fees Now From €50
Prices
Trainer Delivery Option
A Steer Clear educator delivers the course in the school & manages course admin. Course can be run during school hours or after school.
Fee covers cost of tuition, administration & Student Pack.
Fees based on number of students per class. Max 25 per class.
€125 each (Class of 21-25)
€155 each (Class of 16-20)
€190 each (Class of 11-15)
Teacher Delivery Option
School teacher is trained by Steer Clear. Three day teacher training & comprehensive teacher resources €2,000. School's teacher then delivers course in school.
N.B. Sponsorship is available to help schools with the cost of training a teacher.
€50 per student.
Tuition Free
€50 includes Student pack, registration & certification.
All fees include:
12 Module, 20 Hr course, focusing on attitude and behaviour
Student pack:

Steer Driver Education Manual
Steer Clear Driving Skills manual & Logbook
Certification and

€100 OFF
€100 Insurance Voucher toward students first motor policy
In students own name or as a named driver.
Hibernian, Quinn Direct, Zurich, Allianz, AXA, RSA, ARB and Travellers.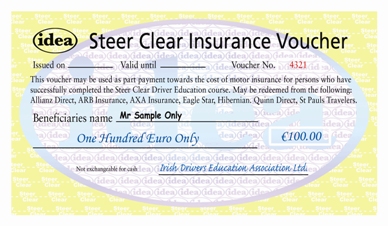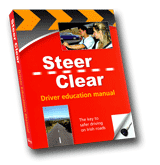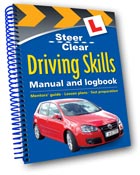 Click here to see if your school or centre is a registered training centre


Click here for ways to pay